Chronopost choose Cargo 1000 insulated containers for its food home delivery service to preserve the cold chain 
THE CUSTOMER:
Chronopost, a national leader in the express delivery of parcels up to 30 kg to business and private customers, has a team of 3,500 employees and serves 230 countries worldwide.
Their new division, Chronofresh, offers the temperature-controlled express delivery service of food products to professionals and end users throughout France
THE REQUEST:
Consumer buying preferences are changing, thanks to the e-commerce boom and the trend for "eating less, but eating better" choosing local products.
Chronofresh needed to deliver food products (dried, fresh or frozen) throughout France, quickly and safely, ensuring maximum freshness of the products up to their destination.
MELFORM SOLUTION
After a careful technical evaluation, Melform has studied and supplied the CARGO 1000 isothermal container for their new express delivery service for food products at a controlled temperature (between 0 and 4 ° C and – 18 ° C) in order to guarantee a rigorous respect for the cold chain.
Modular and mobile, our CARGO 1000 containers are fully compatible with the fleet of traditional Chronopost vehicles. They allow to associate products stored at different temperatures inside the same vehicle, ensuring flexibility and load organization.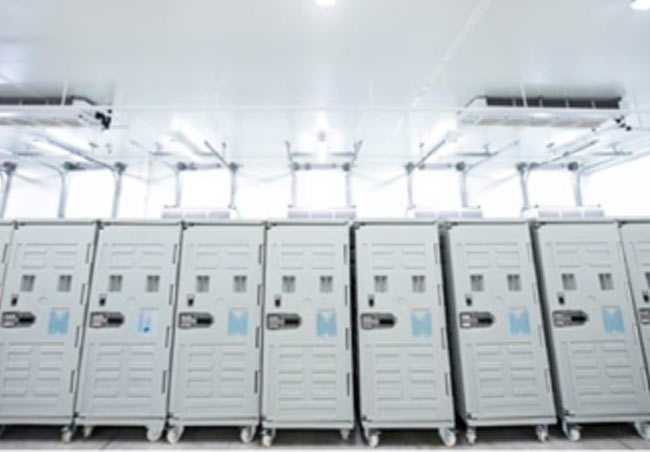 Melform insulated containers, all provided with ATP certification, has been equipped with RFID chips for the traceability of the package throughout the transport. The temperature data are recorded and transmitted at each step (collection, sorting, routing and delivery).
With our solution, the customer can grant deliveries of:
• fresh products between 0 and 4°C
• deep frozen products at a temperature of less than -18°C
• grocery products at room temperatue
Currently, there are about 300 MELFORM insulated containers used and circulating on the French territory.
Thanks to the collaboration with Melform, transport and delivery of fresh products, in full respect of the cold chain, are no longer a problem.
Home delivery of temperature-controlled foods has become efficient and productive.
CARGO 1000: ADVANTAGES

Isothermal container for the transport of chilled and frozen products at a controlled temperature
EUROPALLET external dimensions (80×120 cm): it optimises the use of the loading area of the vehicle.
1,000 litres of capacity.
Total compliance with the cold chain at all stages of transport.
Speeds up distribution operations at the point of sales: it can be loaded inside the cold room of the wholesale centre and unloaded at the refrigerated counter of the destination supermarket.
It can be transported using conventional vehicles: it allows to simultaneously transport chilled, frozen and ambient temperature products using a single non-insulated vehicle.
Manufactured using the rotational moulding technology: monoblock container and door (free of sharp edges, joints and welds).
Fully recyclable at the end of the operating life.