The request of the customer: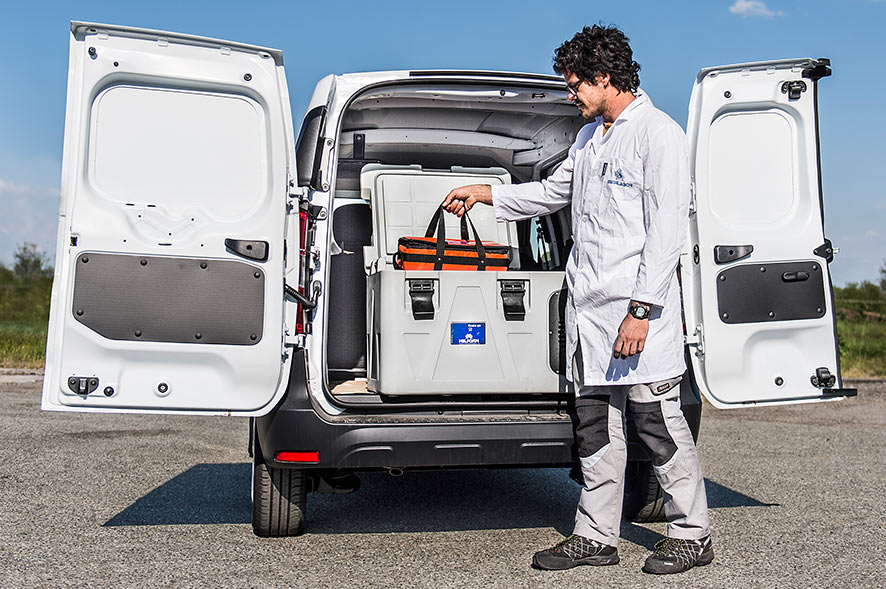 Transport of different types of biological material at three different temperatures on a commercial vehicle, not insulated.
The request of a French company that operates in the biomedical instrumentation industry has been to study a solution for the distribution on the territory of biological material.
Given the different types of material, the same had to be transported at 3 different temperatures in a single minivan, not insulated.
Since the amount of product to be distributed was of limited size, it did not need to have a mono temperature van.
Melform solution: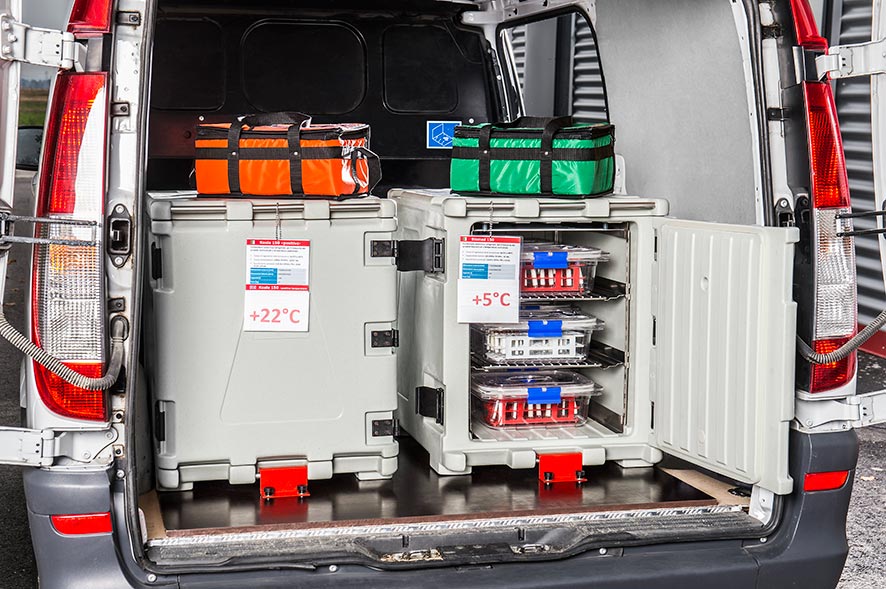 Our R&D technical department have studied and produced various models of Koala Line with integrated refrigerator group with a capacity from 20 to 150 liters which allow to maintain the temperature at a pre-set point of -25° to + 22°C
The containers were subjected to thermal retention test either in Melform laboratory and in external certified laboratories. They were also subject to functional tests on road in vehicles for several months.
The control of the temperature inside the refrigerated containers set on the vehicle was monitored by means of USB data logger.
According to customer needs, the temperature control can indeed be managed in two ways: at destination, the data logger is delivered together with the goods and downloaded on files; or through a GPS detection system (SIM) directly downloaded on Cloud with the traceability of the vehicle and the goods.
The results were excellent: the temperature maintained by the containers has fully met the customer requirements because the cold chain has never been interrupted.
So far, our client has set up about 300 vehicles daily circulating in France with significant cost savings compared to the solution of commercial vehicles modified mono temperature.
The advantages: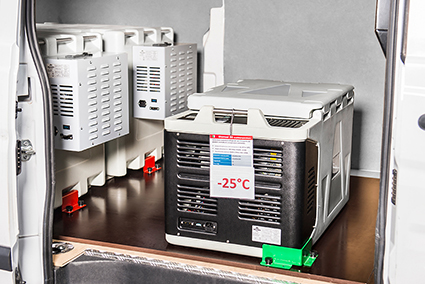 Flexibility in transport management
In a vehicle, not insulated, it is possible simultaneously to carry fresh, frozen and room temperature goods.
The temperature adjustment range: -25°C to + 40°C is able to meet the 4 temperatures required by the specifications.
Reduction of investment costs
The investment for the containers is much lower compared to the setting of a refrigerated vehicle.
Reduction of circulating vehicles since the deliveries can be split with appropriate containers.
Dual power
The containers have been connected to the vehicle battery and, once at destination, connected to main power.
At destination, together with the goods is also possible to deliver the container itself which maintains the temperature required by connecting it to the electrical power.
Ecofriendly
Fully recyclable at the end of its operating life.

Washable and cleanable
Easily washable and cleanable to prevent contamination.